UK's 1st Sensory Beauty Club launches in Norwich
Skin, body & mood care specialists Palm&Sole launched the UK's first Sensory Beauty Club in October, encouraging customers to experience aromatic hand-blended products at events designed to celebrate beauty at any age.
Award-winning aromatherapist and Palm&Sole creator, Kathy Webb, aims to inspire people to get closer to their products through smell, touch and experience.
Described as 'a playground for the senses', the Sensory Beauty Club hosted its first event designed for the ageless generation – the over 35's market that Kathy feels has been forgotten – to discover aromas and textures to slow down, connect with how they are feeling and take control of what they are putting on their skin.
She says: "The age of the generic, one-size-fits-all product is fading. Customers want quality skincare that works for their personal needs – and they want to know what's going into their products."
Two new products made their debut appearance at the event:
• The Beauty Serum Cocktail Bar allows customers to choose their one shot, two shot or three shot ingredients for their personalised facial serum: including raw plant oils, intensive botanicals and aromatherapy oils, blended and shaken in front of them
• The VIP Sensory Beauty Box (only available in Norfolk) was also launched as the UK's first, fully personalised subscription Sensory Beauty Box where customers experience a consultation to learn about ingredients and receive advice on application tips as well as discounts for future events.
The Sensory Beauty Club Event also included: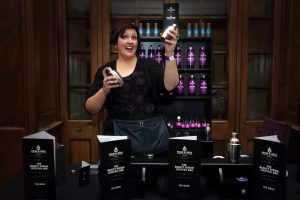 • Hand-massages with a choice of Palm&Sole Hand & Mood Whip•
• The chance to make a product at the Home Beauty Pantry table and take it home.
• A Slow Shopping Experience – new products to explore and buy straight off the shelf,
a hand-blend to order bespoke service.
The event was well received with a number of established beauty bloggers in attendance, intrigued to see Palm & Sole's unique concepts first-hand.
Palm & Sole has continued to gain interest from various beauty media outlets with Kathy appearing in The Daily Express as well as attending two interviews on BBC Radio Norfolk. With features also appearing in The Norfolk Magazine and The Norwich Resident , Kathy's products have also been sampled by the nations editors.
Additionally, a professional video was produced by JMS showcasing exactly what the Sensory Beauty events have to offer.
With the first launch in Norwich a huge success, Palm & Sole now look to introduce their captivating live concepts to the beauty lovers of London and Brighton.
Kathy adds; "I am on a mission to encourage people to embrace who they are and to celebrate the things that make us each different. Great skin is about so much more than what you put on it: it's about supporting the systems that support our skin. Moving from the anchor of the shop and hosting these unique, feel-good events allows me to meet more people and be able to adapt quickly to customers' needs."