Our MD, Suzy Pettican is running 10K in the Norwich Race For Life this Sunday 14th May – aiming to raise over £150 for Cancer Research.
Her training efforts have paid off and she is currently up to 9k with her running partner, Caroline, her sister.
So with the crowd behind her and her dog, Minnie, in her little Race For Life t-shirt we're sure she'll do well and raise lots of money to help the fight against Cancer,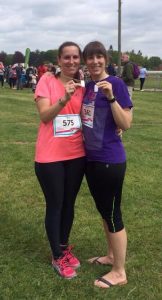 Please do sponsor her if you can so she reaches her target.You can find her fundraising page here:
Good luck Suzy!
And thanks to our friends for your support!