Digital Opinion Poll provides real-time insight into UK General Election
in News
A unique General Election LIVE Opinion Poll is capturing real-time data about the nation's political views in the lead up to the June election, already receiving over 85,000 votes.
With trust in opinion pollsters declining after failing to predict the results of the 2015 general election, last November's US presidential election and the EU referendum, Norwich-based digital agency, GRIT Digital, has launched the live opinion poll providing the public with their own tool to build a picture of the electorate.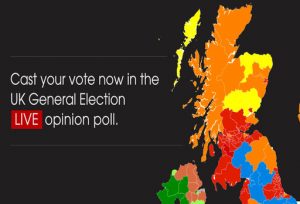 The innovative, interactive map built out of interest by the team, allows citizens to say how they will be voting using their postcode to locate their constituency and party candidates. To ensure data is as accurate as possible, the voting process is linked to Facebook profiles allowing each profile to vote only once, helping to eliminate bots or activists voting multiple times.
Taking less than a minute to complete, people in towns and cities across the UK are being urged to cast their vote and share the poll across social media to provide a snapshot of the political landscape.
This online tool has the potential to reach a larger sample of the population than any other poll. However as participation is voluntary, the sample is not demographically weighted.
Peter Whitmore, Managing Director at GRIT Digital says: "We're really excited by the reaction to our poll and are hoping to reach one million hits with the help of the general public. The purpose of the poll is to provide people with a real-time picture of how the UK is expected to vote as we head into the June election. For that to happen, we need a large proportion of the electorate to participate."
 "As an agency, we care about our country and where it's headed, which is why we're also an OPEN Rights Group (ORG) Corporate Supporter campaigning to protect the rights of privacy and free speech online. All data required within this opinion poll remains completely private – we will not share data with any other party".
To take part in this digital online poll, view the interactive map here: https://ge2017.gritdigital.co.uk
Please note this is not an official poll, nor does this count as a vote in the General Election. It's just for fun!